Grammar and Spell Checker Review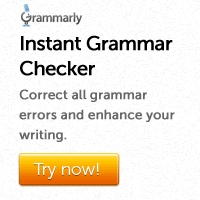 When you write for a living or are putting together a project that requires an extensive amount of writing it is obvious that you would want to have your grammar and wording as perfect as possible. One of the many perks of the internet is that you can check both your grammar and spelling on a myriad of websites that offer you accurate results so that you can catch any mistakes you may have made before you have to send your work out. There are also many resources out there that you can purchase in order to give your work a professional polish. Here we will review some of the top grammar and spell check resources available to you online and give recommendations on which are arguably the best.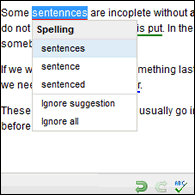 Grammarcheck.net is one of the top sites for checking your grammar and spelling. Grammarcheck.net is lovely for when you proofread on the fly. It thoroughly checks your wording and including one feature that is really interesting which is a word referral feature which highlights words you have used in certain contexts and will recommend a different word to use in its place. This is an intuitive feature that really makes the site stand out. This is a feature that so few checkers actually have, especially when you factor in that so many put an emphasis solely on spelling and not on grammar. Of course you cannot beat the fact that it is absolutely free to use. It's also much better than the spell checker that is integrated into Outlook for example.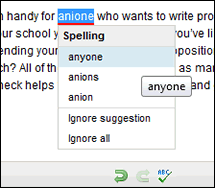 Spellcheckonline.com is another website that will inspect your grammar and spelling for free. It checks for several types of writing mistakes and claims to find even difficult to spot punctuation mistakes, run-on sentences, and even misplaced modifiers. The interface is pretty small, but there's no limitation in count of words you can copy and paste into it, also the feedback is pretty fast. It does a great job at helping you keep your written work top notch. The fact that there's no installation required makes it a very handy tool for every day proofreading. No installation means that you can use it on the go, from your iPhone, and iPad as well.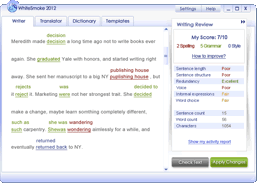 If you have a little money to spare and want to be absolutely positive about the work you are putting out then there are plenty of programs out there that you can buy that provide you with thorough inspections of your spelling and grammar. One of the leading programs out there is GrammarSoftware. As an English grammar checking software that is designed to not only inspect your grammar and wording but make you a better writer as well. It does things such as finding repetitions in your writing and finds alternative wordings. This kind of software is incredible because it helps you to become an overall writer without seeming like it's going at all of your work with a huge red pen. This is an invaluable tool for those who need absolute professionalism in their writing. This software is certainly pricey, costing upwards of one hundred dollars, but what you get for that amount is well worth it. It is truly a wonderful and comprehensive piece of software that is easy to use.
There are also many different plug-ins that are available for browsers such as Internet Explorer. One such plug-in is iespell.com which essentially offers a spell checker as you type. It primarily corrects only spelling problems which means that you are going to have to monitor your grammar on your own. That does not mean it is a bad program, however. It can work as an additional spell check should you not have access to your main spell checker. This is a much simpler option than having to do the right click spell check and other alternatives. Having something like this available on your browser can help to lessen how many times you make an embarrassing spelling gaffe.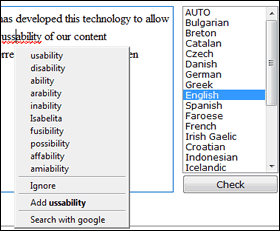 Another interesting piece of spell checking service available online comes from translated.net which offers a multilingual spell checker. This is an especially useful tool for those who have to write articles or presentations for different languages. It can be a big help in terms of making sure that words from different languages are spelled correctly. The only down side to this is that while it does check your grammar and make referrals to possible better wording, it is not entirely comprehensive. This means that an overall knowledge of the language could be useful, but not perhaps necessary. Fortunately users are encouraged to contact the developer to try and fix any mistakes that may be inherent in the system. This means that the program will most certainly improve with time. It also helps that they have a team of translators that take the user submitted feedback and work with it to create a more satisfying program.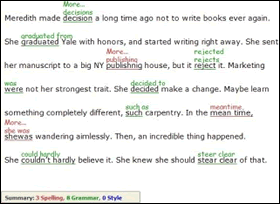 These are all great programs that would definitely come in handy for those people in which writing is their main profession or at the very least a necessary part of their job. They are also great programs for those who are still in school or college. The question of whether or not the software you must purchase is a good choice really depends on your needs. If you primarily need a spell checking program then any of the free programs are more than adequate in that regard. However, in instances where grammar is key, you may want to pay for the GrammarSoftware program as it will show you redundancies in your writing that you may want to avoid in the name of presenting more professional work.
The needs of every writer are different from one another but whether you are a student trying to make the best essay papers possible or a teacher trying to grade them or even if you're just some one putting together a resume, these programs are not only invaluable but they should also be much more commonplace than they are. If more people used grammar checkers and spell check such as englishsoftware.org and grammarcheck.net then the level of professionalism seen in documents would be increased dramatically.
Check your text online now!